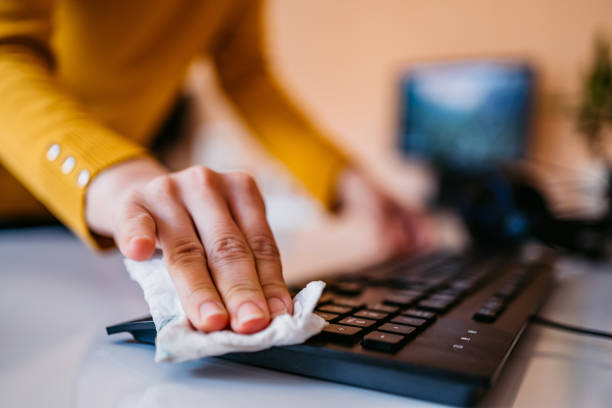 5 Tips to Keep a Clean and Healthy Office Environment
February 15, 2023
|
Aquuamarine
Office cleaning services are the ideal way to keep your business environment hygienic and uncontaminated. These can include deep disinfection, carpet cleaning, window washing, floor waxing and more – leaving your workspace spotless!
Maintaining your office's cleanliness can help reduce employee sick days, which could result in decreased production and revenue. Furthermore, clients who visit your establishment will likely notice the difference in cleanliness.
Professional office deep cleaning services utilize the newest tools and equipment to guarantee your office is spotless and safe. Furthermore, this can extend the life of your furniture and other assets by keeping them in top condition.
5 Easy Steps to Maintain an Office Environment Cleanly
There are a lot of benefits to maintaining a clean office environment. It improves productivity, reduces sick days and makes your workspace more welcoming to clients.
The best way to start is by removing visual clutter. Remove unnecessary pens, papers, sticky notes and other office supplies that are not needed for everyday work.
Maintain a clean desk
A clean desk is a great way to boost productivity. It will also make a positive impression on clients and visitors.
While it may be difficult to maintain a clean desk, you can take some easy steps to keep your workspace neat and tidy.
Start by reducing the number of office items you have on your desk. Remove photos, calendars, books and supplies that you do not need to have around.
Then, organize the rest of your office items. Arrange files, folders and papers by category and assign a designated spot for them.
Use air fresheners
Are you searching for an easy, effective way to ensure that your office remains fresh? Using air fresheners could be the ideal solution. They provide a pleasant aroma in just seconds and can help boost morale within the workspace.
When selecting a plug-in, stick-on or aerosol, it's essential to select a nontoxic option in order to minimize exposure to potentially hazardous chemicals that could harm your health.
Studies have demonstrated that a natural, pleasant-smelling aroma can boost productivity by relieving stress. This may be because certain scents help lower cortisol, the hormone linked to stress.
Maintain a spotless floor
A clean, shiny office will entice customers to visit. Conversely, dirty and grimy floors indicate disorganization and require professional cleaning services.
To guarantee a spotless floor, sweep and dust it regularly. Doing this eliminates loose debris, dust, and other particles that could be causing stains to settle on your surfaces.
Another essential way to keep your office floors sanitary is by regularly disinfecting surfaces people use on a regular basis. Doing this helps prevent the spread of germs that could lead to illness.
Hire a professional cleaning company
Hiring professional office deep cleaning services is one of the most important ways to maintain your office environment. This will save you time and help your business grow by allowing you to focus on your customers and other business needs.
You can hire commercial office cleaning services in Bangalore to take care of mopping, dusting, vacuuming and sanitizing the entire office space. This will ensure that your employees and guests are protected from germs and other health risks.
Keeping your office environment clean will also improve your employee's productivity. They will be more willing to work harder and longer if they are comfortable in their surroundings.
Conclusion
Are you in search of professional cleaning services for your office? Look no further than Aquuamarine – the best commercial office cleaning services in Bangalore with an excellent service track record.
Aquuamarine offers a comprehensive selection of cleaning solutions for offices, from medical centers to schools. Whether you require professional house cleaning services or the best deep cleaning services in Bangalore, they have the perfect solution.