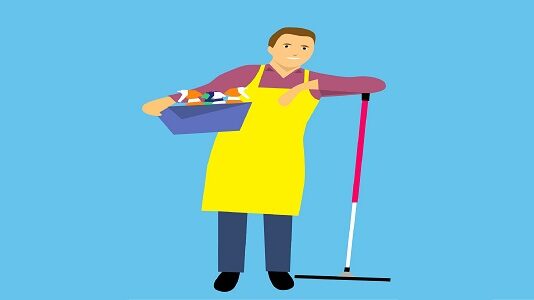 How often do you need a housekeeping service?
October 29, 2021
|
Aquuamarine
Introduction
Housekeeping services in Bangalore
In this fast-paced world, people are so busy with their work schedules that they do not find time in maintaining their homes. They help to keep the house clean and help in keeping it well organized. Living in a clean and tidy home boosts your positive mood and helps to improve your mental health. Managing your daily activities is possible with the help of housekeeping services. There are many housekeeping service agencies in Bangalore that provide quality service to their clients.
Advantages of keeping a housekeeper
The benefits of hiring a housekeeper are
More family time
When you do not have daily chores to do, you can spend time with your family and loved ones. You can also devote time to activities such as cooking meals, getting groceries, doing laundry, washing the car, plan for a short picnic.
 Effortlessly clean home
The service provider cleans the whole home completely by removing the dirt by disinfecting your home, especially the kitchen and toilet areas. It means a clean home without your efforts. Instead, you have time to focus on your interests.
Professional services
The housekeepers are trained enough to provide professional cleaning results. They are well trained to maintain standards and work efficiently.
No cleaning chores
If you do not find the time to clean, then this is the best service to opt for.
Frequency of visits
You should know areas around your home to be cleaned as this might help you to decide how frequently you will need professional cleaning services.
Daily
These are the routine tasks carried on a weekly basis. Parents who are busy working, and those who don't have time to do household chores, and elderly people who need help with daily chores can hire housekeepers who come daily. Many housekeeping services in Bangalore provide standard Monday to Friday housekeeping services. Chores such as vacuuming, dusting, dish washing and cooking can be handled by the professionals while you will have some leisure time. This will help you to maintain an organized home environment and prevent dirt from accumulating.
Weekly or Bi-monthly
Weekly housekeeping services are suitable for small families and are affordable one. Since this service is done weekly, the house cleaners will need extra time for cleaning. Families who choose a weekly cleaning service should make sure that the clutter is picked up before so that the housekeeping professionals can focus on their cleaning duties.
Monthly
Monthly cleaning includes jobs such as cleaning the oven, cleaning and wiping inside the fridge, cleaning the gas stove, cleaning light fixtures, dusting window blinds, cleaning and sanitizing dishwasher, washing machine. Monthly cleaning will require more time than the frequent services, so do not burden the housekeeping professionals by assigning other work.
Occasionally
Occasional cleaning can be done when you are preparing for any functions/occasions. When you are preparing for birthday parties at home, and want your home to be deep cleaned you can avail this type of service. Hiring housekeeping services in Bangalore for such special occasions is a huge investment that saves your time and money.
Based on your necessities, you can start with a bi-weekly service and then gradually increase the frequency of service.
Housekeeping services in Bangalore from Aquuamarine
We are one of the leading housekeeping services in Bangalore offering quality and top-notch cleaning services. Services are offered for commercial and residential establishments. The cleaning professionals clean every nook and corner of your home to make sure you live in a clean and tidy home environment. We use high-quality products and ensure your home is spic and span.  This is one of our highly appreciated corporate housekeeping services in Bangalore.