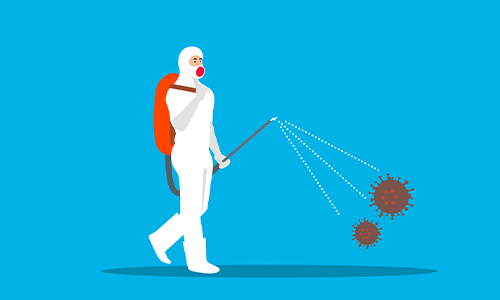 Importance of disinfecting and sanitizing services
November 12, 2021
|
Aquuamarine
Introduction
We are living amidst a health crisis that we have not seen before. Covid-19 has affected the health of the people throughout. But now, since the cases have been reduced people are gearing up for the new normal. So, it is extremely important to maintain a healthy environment for everyone's safety as Covid is still present. We at Aquuamarine provide sanitization services in Bangalore, intending to deliver safety to our clients through our products and services.
What are cleaning and sanitization services?
With the outbreak of Coronavirus, people are becoming aware of the importance ofhome sanitizing and disinfecting services. Disinfection services help destroy fungi, viruses, and other bacteria. Even though we clean our home every day, it is of utmost priority that we should sanitize and disinfect to keep our home hygienic.
Disinfecting and sanitizing services are important especially in non-healthcare centers such as offices, schools, gyms, restaurants, markets, and community centers. High-touch surfaces in these places such as doors and door handles, kitchen, countertops, bathrooms, and toilets should be disinfected properly.
Importance of cleaning and sanitizing services
Let us discuss some reasons to understand the importance of sanitizing and disinfecting services
For a healthy environment
As the virus is spreading rapidly through the air, it is necessary to disinfect the places to keep it clean. Hiring a disinfectant service will help to remove the germs and bacteria which is the reason to several illness. Regular sanitization and disinfecting services will pave way for a safe, secure environment and make the surrounding a healthier place to live in.
Effective disinfectant treatment
One of the great advantages of hiring a professional disinfectant cleaner is that they do not use inferior quality products which may increase the chances of getting infected. They use high-quality sanitizers to make your home clean and disinfected. The disinfectants we use destroys the hazardous viruses and improve the quality of sanitization. The sanitization services that we do goes one step beyond deep cleaning to increase the effectiveness of sanitization. We at Aquuamarine have a team of experienced and trained professionals who ensure satisfactory sanitization services.
Ceases Coronavirus
Corona virus has affected people drastically and created fear in the minds of the people. By keeping your home and office clean and sanitized, chances of getting affected by the virus is lessened and lowers the health risks posed by it. As the popular saying goes, prevention is better than cure. So, keeping your homes sanitized is the only preventive measure to fight coronavirus.
No stress and improved home odor 
Hiring sanitization and disinfectant services in Bangalore help reduce the time and reduce the stress involved in cleaning your home. When our team takes care of the cleaning needs, you can save the time to relax and do other activities. By sanitizing and disinfecting, the odor at your home will also be clean and pleasant making your home the best place to live.
Ensures safety
Safety of customers and employees is our top priority and we have taken steps to ensure everyone are safe and healthy. Our technicians are fully protected with covered suits and masks. Equipped with the latest disinfecting equipment, we assure to provide an effective disinfectant service.
Sanitizing services emphasize quality
With a vast experience in the cleaning industry, our professionals have the necessary expertise to perform effective sanitizing of your home or office. Our sanitizing, and cleaning services provide a safe and clean environment. Our ability to disinfect homes effectively will help to keep your homes clean and safe in this time of crisis.
Get complete cleaning and sanitization services at Aquuamarine
Research suggests that the virus stays on a surface for several days. So with proper sanitization, you can prevent the spread of the virus. The virus gets circulated through door handles, remote, kitchen appliances, door knobs. So these high-touch surfaces need to be disinfected completely. You cannot disinfect a dirty surface directly. You have to clean it first before it can be disinfected. Then apply the disinfectant spray. But you have to wait for some time for effective disinfection. We also offer cleaning services for sofa, carpets, and other furnishings. Hands-on disinfection services which are needed for high-touch surfaces such as door knobs, draw handles, countertops are also done.
Conclusion
We have discussed the importance of cleaning and sanitizing our home and office spaces and how significant it is to avoid such health problems. The more cleaner and sanitized we are, we will be able to kill the viruses. We will be able to protect ourselves from infections by disinfecting and sanitizing our surroundings regularly.
At Aquuamarine, we provide a complete covid home sanitization service in Bangalore. For more details, contact us at +91 9686628146 or +91 9916683311.