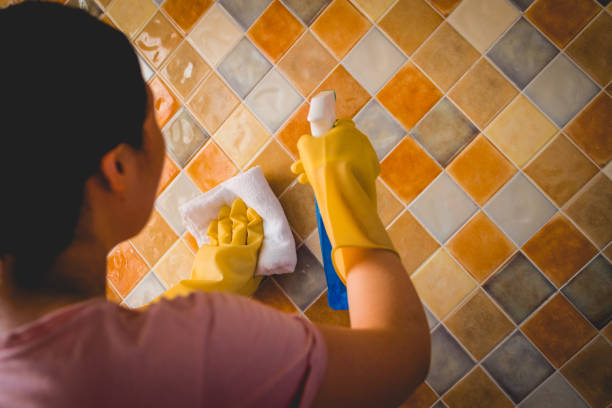 Clever ideas to clean grease off kitchen walls
May 24, 2022
|
Aquuamarine
Good food and hygienic cooking go together. Cleanliness in the kitchen is the most important step towards hygienic food and preparation. From cabinets to cook-tops, chimneys and sink we remove the most stubborn dirt and grime during everyday cleaning.
It is important to keep insects away, if you want to serve healthy and hygienic food to your family. With the help of our cleaning experts, you get a cooking space that is free from germs and other rodents which are responsible for severe illness. Our experts use eco-friendly products for kitchen cleaning. Made from organic raw materials, these cleaning solutions have no allergens and are safe for every household. 
Best ideas to clean grease off your kitchen walls
Despite being careful when cooking, oil splatters everywhere. Even when you wipe down every surface in the kitchen, most of us are not inclined to do it. So, here are some ways to clean the grease off the 
Using dish soap
If the grease stains have been created suddenly, you can clean them using dish soap and a sponge to remove them. 

Dampen the sponge and pour a few drops of dish soap on it. 

Squeeze the sponge in your hand to make a lot of foam.

Press it on the stain and rub a few times. 

Wait for some time and rinse the sponge thoroughly 

Wipe the wall with a damp cloth. 
Using vegetable oil
Vegetable oil is a great product to remove grease from your kitchen walls. It has the ability to clean the grimy dirt from the walls. For best results, mix one part of vegetable oil with two parts of baking soda to create a paste. Apply the paste on the walls with a damp cloth. Wash them with warm water and dish soap. Rinse them and dry them with a dry cloth. 
Using baking soda
Baking soda is a gentle product that works wonders on grease. Make a paste using baking soda and warm water. Use a sponge to apply the paste to the walls and scrub the grease away. Wipe it away with a damp cloth. 
Using citric-acid based cleaner
Citric acid is great for sanitizing, disinfecting and cleaning. It is effective at removing hard water stains, and calcium deposits. Citric acid is used in several cleaning products. Add a few teaspoons of citric acid into a spray filled with water. Use this mixture to spray on the walls and scrub with a sponge and rinse. 
Using TSP (Trisodium Phosphate)
TSP is a strong cleaner. It can cause irritation if not used properly. Wear rubber gloves, safety goggles to protect your skin and eyes. Mix ¼ cup of TSP with one gallon of warm water. Allow the solution to sit on the wall for 2 minutes to soften the grease before scrubbing. Rinse the affected area thoroughly.
Using cellulose sponge
Wipe the greasy spots with a cellulose sponge, moving in a circular motion. Work part by part , wipe each part with a dry cloth. 
Using white vinegar
Soak a sponge in vinegar and use it to wipe the greasy surface. It'll cut through the grease and grime easily. Vinegar can be used on non-porous surfaces such as metal and glass. You can add a few drops of lemon juice if you want to have a better scent. 
Using ammonia
Ammonia is another great option for greasing walls but breathing its fumes leads to irritation of eyes, nose and skin. So, protect yourself with rubber gloves and safety goggles to clean and degrease kitchen walls. 
Why you need to hire Aquuamarine for kitchen deep cleaning services
Without the necessary cleaning tools and equipment, it is difficult to make your kitchen look clean. So, you will need to hire a professional deep cleaning service to make your life easy. When you book deep cleaning services in Bangalore from Aquuamarine, our experts will clean your kitchen using the best equipment and eco-friendly cleaning solutions. 
With these ways, you can effectively remove the grease off the kitchen walls and end up with a sparkling clean kitchen wall.