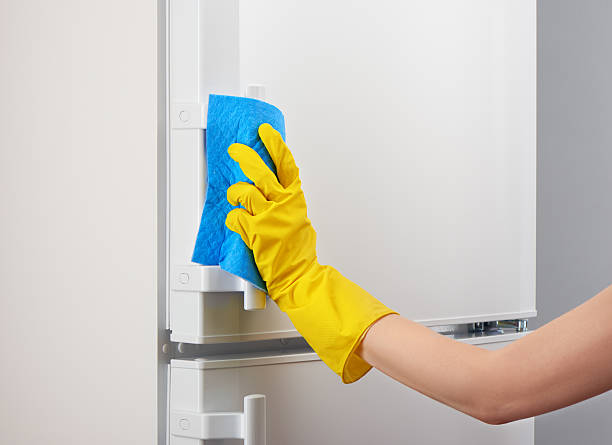 How To Clean The Refrigerator Like A Pro
January 5, 2022
|
Aquuamarine
Bacteria do not grow in cool environments. It is not the same in the case of a refrigerator. If you do not keep your refrigerator clean, it can be a den of bacterial growth. According to the research, the prediction says that more than 48 million people become sick due to food borne illness. This article shares some tips that can help you to clean the refrigerator like a pro and allow you to stay away from any disease.
How Often Should You Clean Your Fridge?
One should deep clean their refrigerator at a gap of 3 to 6 months. You can also look for kitchen deep cleaning services in Bangalore to help you with your endeavor. You like to do your work, so you should do it more often to become quick at it. Also, you must ensure that you should throw away the foods and other edibles that are past their prime. It should not be a settler in the refrigerator if it looks suspicious.
Deep Cleaning Kitchen Tips For The Fridge
During the cleaning session of your refrigerator, you must always indulge in teamwork. If you can do it with your family member or partner, it becomes easy. While you can indulge in some scrubbing, your partner can do the other portion of the work. You can also consider taking the experts' help from kitchen deep cleaning Bangalore. They provide commendable service and that too at your convenience.
Wash The Shelves And Drawer
You can pull out the removable shelves and clean them efficiently. Before trying that, you should always check the manual to avoid any damage.
While cleaning the interior, make sure you never use hot water. It might raise the temperature of your refrigerator and make it inefficient. Make sure you dry it before using the fridge.
Sometimes people tend to overlook the door and the door handles. It can be the hotspot of bacterial growth and dirt. Besides, you can use any toothbrush to clean the folds of the door.
Cleaning The Coils And Water Dispenser
When you finish with the interior and exterior portion of the fridge, you should check the condenser coil. You can find it on the back portion of the refrigerator. Due to that, one can easily clean that. Make sure that you turn off your refrigerator before doing any cleaning.
Cleaning The Gasket And Drip Pan
Gaskets help to maintain temperature consistently. You can rinse it with a mixture of dish soap and warm water. Rinse it and add a thin layer of petroleum jelly as it prevents the seal from becoming brittle.
You can also go for the drip pan while cleaning the interior portion.
Nobody likes a smelly refrigerator. You can get rid of it by cleaning it with baking soda. Also, if you discover any moldy area, you should carefully remove the mold and clean it.
Kitchen Cleaning Services To Make Your Life Easier
If you are overwhelmed with the work, you should look for Deep cleaning services. Make sure that you look for kitchen cleaning services near me to make your life a lot easier. The service can help you to make your refrigerator sparkle.
Bottom Line
Once you take proper care of your fridge, it increases the appliance's longevity. For kitchen deep cleaning services Bangalore, get in touch with Aquuamarine and we will take full care of your kitchen cleaning which includes refrigerator cleaning.