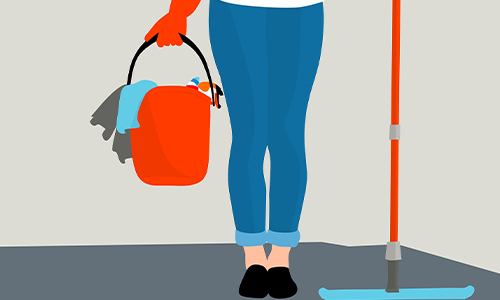 Top Reasons to Hire Home Cleaning Services During Pandemic
October 25, 2021
|
Aquuamarine
We have become more conscious about our hygiene during the COVID pandemic. Our minds are occupied with this one word, sanitization. To prevent the spread of COVID, you must take all the precautions necessary to keep yourself and your loved ones safe. We will never forget the lessons that we learnt during these times. We know to be mindful of our surroundings and keep them clean and hygienic. Home cleaning is much needed of the hour, but it is often considered a strenuous chore for many. You need a professional home cleaning service to do deep house cleaning and sanitization.
Reasons to hire professional home cleaning services in Bangalore
Regular cleaning and maintenance of your house are key to lowering the risk of infection. As many people become more conscious of having a hygienic environment at home, they opt for professional home cleaning services. Let's see the reasons why:
Cleaners follow government guidelines
When you hire professional cleaners, they strictly follow government protocols for COVID 19, ensuring maximum safety.
Use government prescribed cleaning products
The professional cleaning agents make use of government-approved cleaning material that is non-toxic to clean tough stains. The cleaners use 1% sodium hypochlorite or phenolic disinfectants to clean the surfaces effectively. To disinfectant metallic surfaces, the expert cleaning staff uses 70% alcohol to wipe down surfaces.
Use distinct cleaning techniques
Every home is different. So, the same cleaning material or technique may not work for your home. They use different cleaning strategies to clean your living spaces. With the help of the right equipment and the proper technique, they clean the house efficiently. There are some areas that make them easy to access; in that case, they use soap or detergent to clean the surfaces when they are dirty. Thereby, it reduces the risk of infection from surfaces. They also use a disinfectant product containing 70% alcohol.
Always take necessary safety precautions
You may have kids or pets at home; they take all the necessary steps to keep the cleaning solutions away. The cleaning professionals know how to clean and where to disinfect. They wear gloves and masks until they finish their cleaning task. Also, they use chemical disinfectants safely and effectively. They ensure adequate ventilation while cleaning some surfaces. After completing their cleaning job, they decompose all the waste organically.
Clean and disinfect all the surfaces
A reliable home cleaning service company is all you need to clean surfaces and areas of your home effectively, thereby reducing the risk of infection. They do a deep cleaning process for all those critical spaces that we overlook during our regular cleaning.
From carpets, rugs to windows and doors, all the surfaces are cleaned by the expert cleaning staff. For those looking for professional home cleaning services in Bangalore, contact Aquuamarine, the best home cleaning service provider with highly trained cleaners to clean and disinfect the home effectively. Maintaining a clean home is essential to prevent germs. So, keep your family as safe as possible during this pandemic!