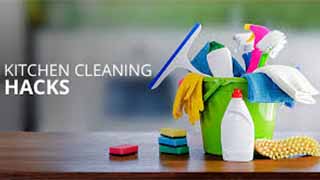 8 Cleaning Hacks with Bleach Indian Homes
April 12, 2020
|
Aquuamarine
Take care- Room is well ventilated when being used. The dilution will vary from Brand to Brand hence follow the dilution ration as on the bottle.
Soak your white clothes ( without embroidery or other prints ) like Dupatta , Chudidar , Shirts , Nylon socks kids Uniforms which have turned yellow overnight in diluted liquid bleech which is easily available in super markets and wash them in plain water and then with regular soap. You can find the clothes bright and shiny.
Soak your tea strainers , tea / coffee kettles and if you have plain white cups in bleech over night and Next day find them absolutely free of stains.
Cutlery with black marks or marks due to turmeric can be cleaned out really well if soaked overnight in diluted bleach water.
Spray diluted bleach which is left over after soaking clothes to clean your dust bins . leave it for an hr it will not only clean the bin but also disinfect it avoiding it to smell.
You can spray diluted bleach in the refrigerator after emptying , srub and leave for an hour it so that all the mould from the channels come off clean.
Soak the burners or the removable parts of the gas stove soak in diluted bleach water for three hours . Wash with soap solution and a tooth brush. Keep upright so all water drains out. Then fix it back on the desired place. Ensure its fixed well before using.
For Bathroom floors use the powder bleach apply it to the floor tiles allow it to react with the dirt and mould for half an hour. Allow air in the bathroom so you don't feel suffocated. Scrub with a brush and then was clean.
Soak your kitchen cleaning clothes / dusters in diluted bleach as it cuts down on the greasiness on them and even takes of the stains on it making it look cleaner for use. It also helps in killing the bacteria which tends to grown on it.
Soak your white plastic Chopping board in diluted bleach it will remove all the stains which get accumulated in the fine cuts.