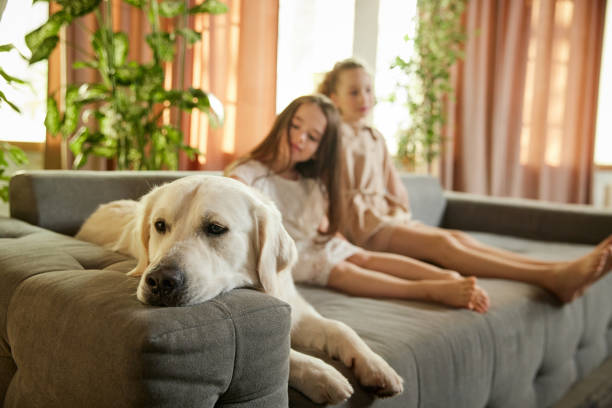 8 ways to protect your sofa from pets
August 17, 2023
|
Aquuamarine
Introduction
If you are the proud owner of a pet, then you must have already realized by now how much your pet loves your sofa. They love to scratch and bite on the sofa, making it challenging to keep your sofa safe from their shedding fur and playful claws. So, here we have come up with a few effective ways in which you can protect the furniture of your house from your pets:
Eight ways to protect your sofa from pets:
Regular Nail Trimming
Keep the claws of your pet trimmed at all times. This will not only protect the sofa but is also good for your pets' overall health. Also, big nails can easily break and get chipped, becoming the cause of a lot of pain for your cat and dog. So, to avoid this, always try to maintain a regular nail trimming schedule. 
Use Odour Deterrents
Now this is another easy way to keep the pets away from your sofa. By spraying odour deterrents on your sofa, you will not only be able to give your living room a fresh vibe, but your pet will also stay away from the sofa. Instead, they will look for other places to hang around.
Invest in Pet-Proof Sofa Covers
Nowadays, different types of pet-proof sofa covers are available in the market. So, you can get a similar cover for your sofa as well. This way, you will not have to worry about your sofa getting covered with fur, and the pets will also not be able to cause damage to the sofa with their nails. You may also go for regular sofa shampooing services in Bangalore to give your sofa a good cleanup.
Provide Suitable Alternatives to Lick or Chew
You can invest in different toys and other chewables for your pets so that they focus on the toys instead of the sofa. These toys are available in different varieties and designs. So, pick the ones you think will be suitable for your pet.
Install a Pet Door for Outdoor Playtime
Pets need to spend time outdoors where they can jump around, bite things and do the things they love to do. Installing a pet door to your outdoor space can be a great way of ensuring that your pet gets much-needed outdoor time regularly.
Choose Pet-Friendly Furniture
While purchasing a sofa for your living room, look for pet-friendly materials resistant to stains and scratches. Go for sofas made of synthetic fibers, which are durable and easy to clean.
Train Your Pets
Providing your pet with the desired training is a great way of keeping them away from your sofa. Try using various positive reinforcement techniques. Also, reward them for staying away from the sofa. This is going to bring about a change in their behaviour.
Schedule Professional Cleaning
You can opt for a sofa cleaning service in Bangalore to give your sofa a good cleanup after specific intervals. This will make sure that your house remains clean and hygienic at all times. You will also be able to save yourself from allergic reactions that mainly occur because of pet fur.
Why Choose Aquuamarine for Sofa Cleaning? 
When it comes to deep cleaning services, Aquuamarine is one of the top names. The experts at Aquuamarine will ensure that your sofa is cleaned to perfection. They will use highly reliable techniques and professional-grade cleaning supplies to provide your sofa with excellent cleanup. With different packages available, you have the choice to pick the package as per your requirements. You can also contact Aquuamarine for deep kitchen cleaning in Bangalore, and you will be overwhelmed with the quality of services you receive.