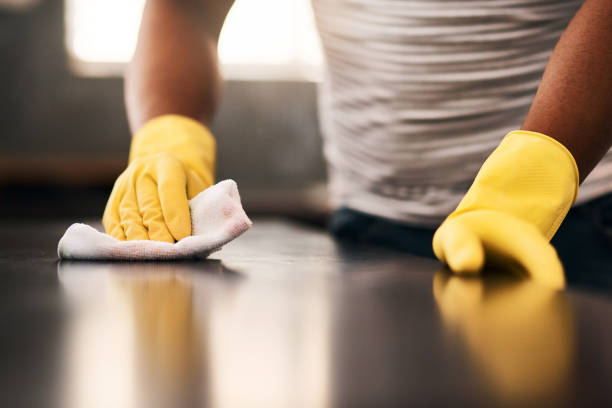 How a Weekly House Cleaning Service can Improve your Daily Life
April 4, 2022
|
Aquuamarine
Have you ever considered hiring a weekly house cleaning service before? Imagine if you hired one. You would leave your home on Monday morning and come back to a magically clean home. The shelves have been dusted and cleaned, the carpet has been vacuumed, floors have been mopped. This happens every week and remember you did not do it by yourself. It is an opportunity to have a clean home and spend more quality time with your friends. 
A professional weekly deep clean can be beneficial to you and your family for many reasons. Let's take a look at them.
Fresh start-weekly
Weekly house cleaning service means you enter into a dust free home without any work done by yourself. Your floors are swept and mopped, rooms are cleaned, kitchen is spotless and carpets are vacuumed and the smell of cleaning products in the air (thanks to the environment-friendly cleaning products). A messy home affects your brain and makes it hard for you to concentrate on important tasks causing stress. A clutter-free home is healthier for your brain and gives you and your family peace of mind. 
Concentrate on household chores which you like
A weekly cleaning service frees up your time to take care of things in the house. Professional cleaners will handle the dirty jobs as it is their occupation. You will have more time to organize your shelves, clean your fridge, and prepare healthy meals and other things. If you are looking for the best home deep cleaning services in Bangalore, then contact Aquuamarine. 
Save a lot of time
You nearly spend 6 to 7 hours per week cleaning. That's a lot of time you could spend with your family or pursue your favourite hobby. When you hire a weekly cleaning service, you save nearly 24 or 28 hours per month. With the time you save, you can spend more time working, or with your family and friends, help your children with their homework. 
Control to stay in your way
Living in a clean space gives us a sense of control over our environment which brings us comfort. When some people feel overwhelmed or stressed out, giving the shelves a quick dusting, cleaning the kitchen or organizing the closet is beneficial for their mental health. Keeping your home clean and engaging in the cleaning process is good for you. Lack of cleaning can have a direct impact on your mental health. 
Reduce the stress
Too much clutter can negatively impact your home and cause serious stress to your family. Clutter negatively impact your mental health. Too many possessions when unchecked can cause stress and can lead to anxiety and depression. With lots of clutter, your living space ceases to be a place where you can feel comfortable and relaxed. Cleaning can actually reduce feelings of stress. 
Mood-bursting workout
Cleaning not only burns calories and be good for our bodies but it also increases endorphins which are the feel-good chemicals in our body. One hour of cleaning reduces feelings of stress and reduces the risk of psychological difficulties. It not only improves mood, but also makes you resistant to stressors. 
Hire house cleaning service for fresh start
If you're looking for home deep cleaning services in Bangalore, contact Aquuamarine. We offer home cleaning services at whatever frequency is convenient for you. Our clients love the way we care for their homes as if they were our own. 
Conclusion
Keeping a clutter-free home requires regular cleaning and proactive thinking. With covid-19 requiring everyone to be at home, it is even more beneficial. Having a clean and healthy home can have many benefits by protecting you and your family. Once you have hired a professional cleaning service you can ensure that every corner of your home looks clean.