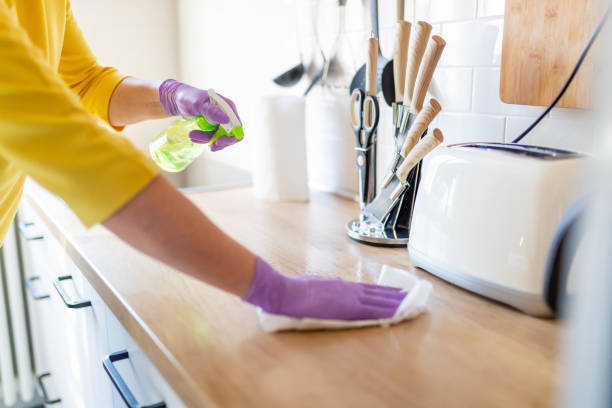 6 Techniques for Cleaning Your Kitchen Easily in the New Year
January 30, 2023
|
Aquuamarine
Although a kitchen is a place in your house where most magic happens, it is also where most bacteria survive. Deep cleaning of your kitchen and kitchen appliances is the topmost priority to ensure hygiene and safety. It is because most of the food we cook involves oil, spices, fat, and grease. 
Easy 6 steps for Cleaning Kitchen 
Here are six easy, natural yet effective kitchen cleaning tips to achieve a spotless and germ-free kitchen.
Use plastic wrap to enclose your refrigerator
This technique makes your life and cleaning your kitchen a lot easier. Cover your refrigerator with a layer of clear plastic wrap. Do not forget to change it every month. The plastic wrap keeps your refrigerator's top free from dust and grime.
Using steam to clean your microwave
Although microwaves are one of the most useful appliances for cutting down on time, they get dirty quickly, and removing any mess can be tricky. Never scrub your microwave while cleaning. Instead, slice a lemon in half, and squeeze the juice into a microwave-safe bowl with half a cup (or 100 ml) of water. Place the bowl into the microwave and set it high for two to three minutes. The steam will ease any stubborn grime. Do not forget to give it a quick wipe. 
Does your kitchen require a deep cleaning? Search online with "best deep cleaning services near me" and speak to the experts.
While You Cook, Clean
It is a good idea to put things in place while your cook. When cooking, instead of leaving everything on the counter, try to put things away when you use them. The concept of cleaning while cooking is fundamental to maintaining a clean kitchen. It includes wiping up the spills on the counter immediately, putting the ingredients used in cooking back when you are done with them, and washing the dirty dishes while the dinner is in the kitchen.
Pick the proper tools.
The right cleaning kit makes any job more satisfying and effective. Keep a razor blade scraper handy for scraping gunk from your glass stovetop for cleaning the kitchen. However, white vinegar is a cleaning workhouse; the acid in vinegar damages natural stone countertops like granite.
If your living room sofa requires a deep cleaning, search with terms like "best sofa shampooing services" and speak to the professionals. 
Clean the outside of your stove and oven
You can go for a thorough oven cleaning at some other time. However, a brief exterior cleaning goes a long way in obtaining a healthy and hygienic kitchen. Start from the top. If you have a gas stovetop, remove the grills and wipe the underneath surface with an all-purpose cleaner. 
If you have electric burners, you need to clean them with diluted dish soap. Wipe your electric glass stovetop with warm soapy water. Once you clean the top, wipe down the front of your oven with an all-purpose cleaner, white vinegar, or diluted dish soap. Remember to clean the knobs and display.
Use a toothbrush to clean the disposal guard on your sink
Often food waste sticks on the underside of your sink's garbage disposal guard, which you often fail to realize. You need to clean the area with a toothbrush. Soak a toothbrush in an anti-grease solution, and turn the flap inside out. With the help of the toothbrush, scrub the guard to get rid of the food waste. 
Does your carpet look dirty? You can search for a "reliable carpet cleaning service Bangalore" and speak to the experts.
Why Choose Aquuamarine for Kitchen Cleaning?
With hectic schedules and a busy lifestyle, investing a lot of time in house cleaning is difficult. Therefore, it is better to seek the help of a professional like Aquuamarine, having trained staff proficiently in house deep cleaning. The firm offers customized and high-quality services to its customers.